Offerings
November 2nd 2018,
Happy Holidays to my Shibumi Family,
Each year as the holidays approach I think it's only October and I have plenty of time to plan that party, that family gathering and so on. But it flies by so fast, there's so much to do and so much fun to be had that time gets away from us.
So, this year we're getting a head start in the spirit of celebration offering past and present vintages as a gift pack of three different varietals in flight form or create your own.
I love this time of year with the beautiful meaning behind it all and the gatherings we get to host or attend. Celebration with wine is a wonderful accompaniment to a beautiful dinner, an intimate evening or as a lovely gift.
Share Shibumi this Holiday Season,
Joann Serafini Ross
Proprietor, Shibumi Knoll Vineyards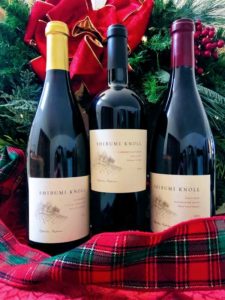 Holiday Offers
Shibumi Knoll Chardonnay
Buena Tierra Vineyard   
(3-pack) – $265
An ideal gift for any Chardonnay aficionado includes a vertical of the 2013, 2014 and 2015 vintages.
The 2013 –  A beautiful wine with a deep halcyon hue in the glass. Honeysuckle, Jasmine, Citrus oil and more.
The 2014  – Bright and lovely with a taste profiles of lemon, green apple and grapefruit, kissed by a floral blush.
The 2015 –  A magnificent balance of both the 2013 and 2014 with complex flavors of pear, peach and apricot.
Shibumi Pinot Noir
Buena Tierra Vineyard
(3 pack) – $175
The Pinot Noir is an amazing addition for any holiday table.  Three gorgeous vintages- the 2010, 2012 and the 2013.
The 2010 – A beautiful tasting profile of strawberry, rhubarb and cranberry with notes of pink peppercorn, summer savory and clove.
The 2012 – An elegant wonderful fruit purity with rich succulent plum, wild berry and raspberry fruit.
The 2013 – A full-bodied rich sensation,  Blackberry, white pepper, leather and tobacco, with a soft velvety texture.
Shibumi Knoll Cabernet Sauvignon
Estate Vineyard
(3 pack) -$280
A gorgeous selection of past vintages 2011, 12 and 14. A great assortment to depict the beautiful ageing capabilities of our Cabernet Sauvignon for years to come.
The 2011-   Beautifully rich and savory with current, mineral sage and dried Blackberry flavors.
The 2012  –  A beautiful aroma of black fruit and pomegranates, lush with great structure.
The 2014 –  A wine to love with complex aromas of earth and, leather with a sensual, soft mouthfeel.
Create your own Holiday Offer
Create your own selection of the above-mentioned vintages of Pinot Noir, Cabernet Sauvignon and Chardonnay.
Note: This special offer is in addition to our regular offers that are always available.
Please order by November 12th to guarantee delivery by Thanksgiving
Please order by December 10th to guarantee delivery by Christmas