Offerings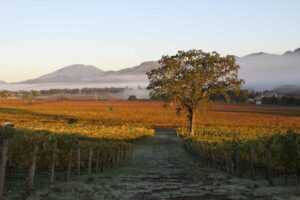 October 15th, 2019
Dear Friends of Shibumi Knoll:
This year has been a good year in the Napa Valley.  The weather has been beautiful– blue California skies, hot days, lovely nights and no smoke in the air.  It's still early but I'm hopeful our weather will hold.  At the start of this year, I think many of us said a little prayer for our valley.  The oranges and reds are starting to show up on some trees and vines, fall has arrived.  The days are still hot, but the air has a different quality to it with a cool touch and cool nights.  Many grapes are still hanging, getting sweeter and more flavorful each day.  We'll pick a little later than some years but it's an abundant year for our grapes in the valley.
This offering is for our 2016 Pinot Noir and 2016 Estate Cabernet.  Each wine is so drinkable and beautifully balanced.  Any occasion, intimate meal or family gathering is perfect for these wines. I know you will enjoy them.
2016 Shibumi Knoll Buena Tierra Vineyard Pinot Noir – 135 cases produced
Due to its delicate nature and red berry profile our Pinot is perfect for many food pairings as it matches well with duck, pork, veal, chicken, salmon and many others. This wine stands up to foods and sauces higher in acidity and pairs with a myriad of different hard and soft cheeses. Pinot is one of my favorites because of its versatility and elegance.
The color of our 2016 Shibumi Pinot Noir is intense and rich with softness and beauty and the aroma pulls you in with ripe Bing cherries on the nose. On the palette, the presence of black berries offers delicate intensity with bright red
strawberries and raspberries. The taste has a smooth and velvety structure. The finish is beautiful and lingering.  This wine will age well but you won't want to wait.
2016 Shibumi Napa Valley Estate Cabernet Sauvignon – 101 cases produced
There's so much great Cabernet in the valley but each one tastes different in so many ways.
It comes down to your individual palette. You never know with all varietals what gem you'll uncover. I make a small amount of Cabernet but it's such a beautiful wine.  On the scale of super intense to subtle flavor, Shibumi leans towards the intense side with perfect balance.  This balance is why I say drinkable.  For me I want to drink a wine that doesn't assault my taste buds but makes them purr.  Shibumi does that for me and I hope for you too.
Shibumi Cabernet is a dark, lush cabernet in the glass.  This wine is a standout that will please for years to come.  The 2016 yield was small, but the concentration of flavors is rich and bold. The nose offers cocoa and chocolate infused with dark fruit, blood orange and golden raisin.
The taste is cabernet at its best with an added earthiness and a medium tannic structure.
This cabernet is signature Shibumi with elegance and gorgeous flavors lending to a truly sophisticated wine. This wine will get better and better as the years go on but open it now because you won't want to wait to enjoy just like the Pinot.
Special Fall Offer
2013 Shibumi Knoll Napa Valley Estate Cabernet Sauvignon Magnums and Half-bottles
We decided to re-release this beautiful vintage because it's everything you hope for as a Cabernet ages.  The 750's are long gone but these majestic magnums and intimate half bottles are available in limited quantities.
In the glass the color is a decedent dark, rich raspberry. When you take in the aroma you want to keep revisiting the nose over and over. It doesn't hit your senses too hard or make you struggle for more you just want to inhale and bask in the soft lush elegance of this lovely wine.
The wine is dark cherry and perfectly ripe plum making it succulent and sensual.
The taste is everything a California cab should be.  Bold yet delicate in perfect balance. The finish is just right, not too much, just enough to make you want to savor the flavors and long for the next sip.
As you can tell I really like this vintage.  We taste older vintages from time to time and when one is a standout I love to share.  This is a limited offer, but it is one of the best of my Estate Shibumi cabernets with years to go.
Cherish each day with gratitude from Shibumi Knoll Vineyards,

Joann Serafini Ross
Proprietor

Tara Pray
Sales and Marketing

Bali and Tucker
VID's – Very Important Dogs
---
Note:
Please allow up to 3-5 days for orders to be processed and shipped. To preserve the quality of the wine, orders will not be shipped in extreme temperatures.